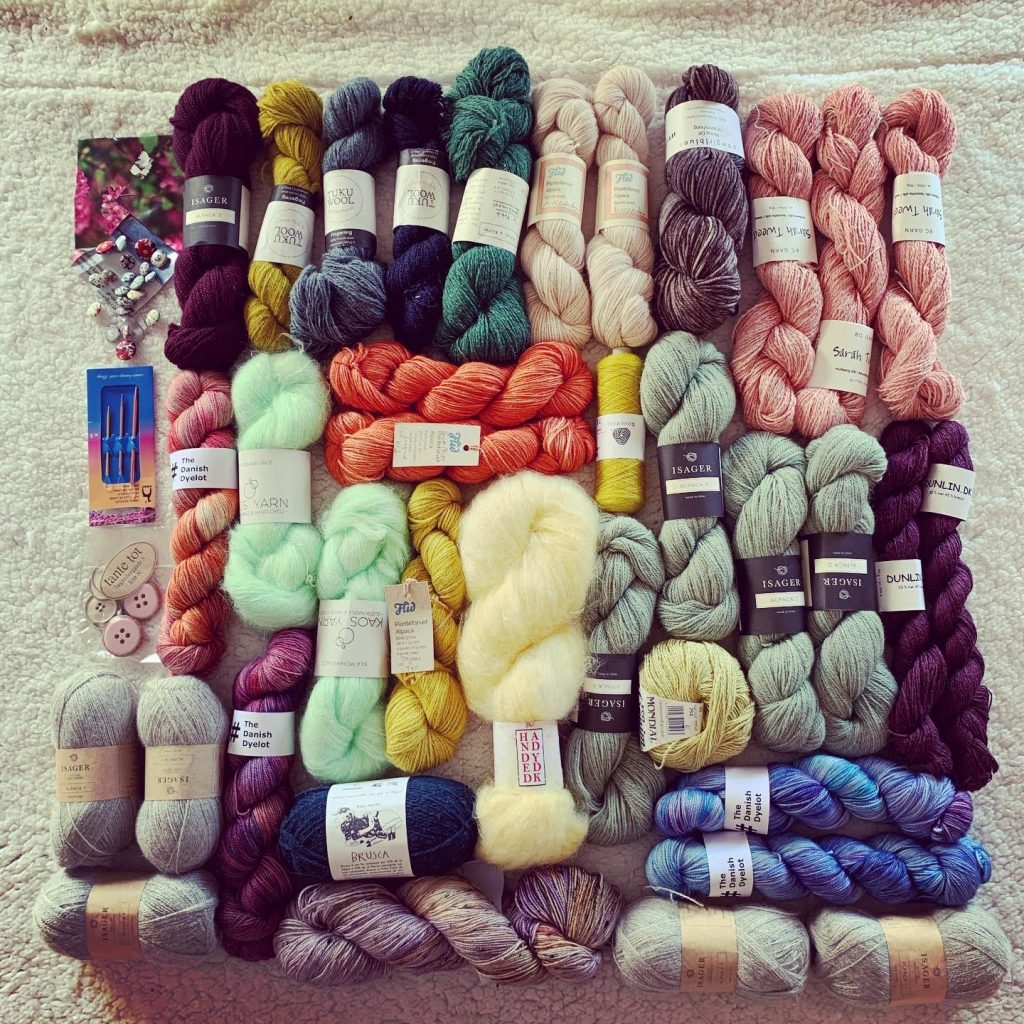 I want to start a new section of my blog. As yall know by now, I don't really blog for the sake of blogging, I only write if I have something to say. I've been wanting to start reviewing the yarn stores I visit on my travels and I took a trip in December that is the perfect place to start: Copenhagen!
Copenhagen is a lovely, safe, beautiful city full of super friendly, English speakers! I had so much fun walking around the city, visiting the museums, eating, and talking to the locals. If you ever get the chance, even if it is during the winter, I highly recommending going! There was so much personality and charm to the city, enough to outweigh the chilly weather. The hygge is real!
So I spent an entire week in Copenhagen, which was plenty of time to hit every single yarn shop (or at least, every one I could find out about online or through word of mouth). Without further ado, here are my reviews and recommendations. I will present them in order of my recommendation, so if you are on a limited time, start at the top of the list and work your way down.
1 – Uldstedet Københaven
Vendersgade 3, 1363 Københaven, DK
This is my number one recommendation. The selection was fantastic, the owner was welcoming and pleasant, there was a variety of price points, and lots of local/Danish native yarns. It was easy to find and centrally located in the heart of the city. This is a must see shop. The variety was the absolute best that I found in the city. This is a shop that is clearly well loved by the locals. Whatever kind of yarn you are hoping to bring home (affordable, luxury, unique, or local), you will find it here.
2 – Tante Grøn CPH
Christian Winthers Vej 2, DK – 1860 Frederiksberg C, DK
Tante Grøn and Ulstedet Københaven are my 2 absolute-must-visit shops in Copenhagen. The only reason Tante Grøn is in the 2nd spot is because of the slightly more limited stock (but still lots to choose from). This shop is fantastic. The owner couldn't have been nicer. She brewed me a cup of tea and we chatted for like 45 minutes about life and yarn, politics and kids and just everything (I'm sure you can skip politics if that's not your thing 😉 . This shop focuses on yarn but also had other neat souvenirs (not gaudy souvenirs with "Denmark!" emblazoned on them, actually nice handmade beauties by local artisans/companies).
Be sure to check out the shop owner's handdyed yarn, along with her selection of handmade-by-a-local-artisan fabric buttons. If your thing is unique yarn, ask the owner to point you in the right direction. She can tell you the story of every single skein of yarn, every yarn company she stocks and why that company is special enough for her to carry. This was the shop I enjoyed visiting the absolute most in Denmark. Do not leave the city without stopping here!
3 – Sommerfuglen
Vandkunsten 3, 1467, København, DK
This shop is one that you can hit if you have time. I would have loved to see a bigger selection of local/Danish yarn. Most of the yarn stocked was commercial and affordable. They have a huge selection of European yarns that we can't get in the States. If you plan to purchase sweater quantities at a good price, Sommerfuglen would be a good option for that.
Sommerfuglen is clearly well loved by locals. When I went, it was absolutely packed! I did find some super soft mohair/alpaca yarn that was locally dyed. The shop is pretty big for Copenhagen and did have a wide selection of labels. The thing I enjoyed most there was their selection of books on various crafts, not just knitting/crocheting. They were fun to peruse. This shop has a good vibe and welcoming atmosphere.
3 – Woolstock
Præstøgade 2A, 2100 København, DK
This is a neat little shop that you should visit if you need lunch! This is a shop/cafe. Peruse the yarn while you wait for your food. I really enjoyed the vibe of this place. It was very relaxed, charming, and welcoming. The owner took some time to talk to me, recommend a lunch choice (I wanted something Danish, something they consider classic and she recommended a great sandwich that I really enjoyed) and explained hygge to me.
The yarn selection isn't quite a large as some of the other shops at the top of the list, but they does have some yarns we just can't get at home. There wasn't a great deal of local/Danish yarns, the majority of it was from Italy or abroad. I did find some neat South African yarn there, as well as some commercial labels we don't get in the States. It was an enjoyable afternoon browse and the food was delicious.
4 – Flid
Saxogade 77, 1662 København, DK
I liked Flid. It is smaller than some of the other shops on the top of the list, but it has good local yarn options, a variety of handmade garments for purchase, a friendly owner, and a good atmosphere. The owner was busy knitting away on something when I came in, it was lovely to see! The shop is bright and cheerful and doesn't make you feel claustrophobic like some of the other smaller shops. It's worth a visit if you have time!
5 – Knitting for Olive
Godthåbsvej 55, 2000 Frederiksberg, DK
This is a big, clean, bright shop full of only one label of yarn. There are quite a lot of hand knit garments for purchase here, so it could be another good option if you are looking to buy something like that. The yarn was reasonably priced but the limited selection wasn't really my jam. It would be a good place to pick up sweater quantities of yarn, though.
6 – tante Tot
Jægersborggade 6, 2200, København, DK
This shop was not really my cup of tea. They only stocked one manufacturer of yarn, all commercially made. It was extremely small. The yarn price was reasonable, however, so if you're on a really tight budget this could be a good shop to visit. The only thing I purchased there were buttons (they were really pretty, though, and a fair price). The owner was friendly but the shop is so small she was just watching me the whole time. It was a little uncomfortable!
I will say that this shop did have a really good variety of handmade garments for children for purchase. If you are looking to purchase something for a child while you are in Denmark, try tante Tot. The finished garments really were darling.
7 – Unique Yarn
Oliefabriksvej 112, 2770 Kastrup, København, DK
Very small and limited selection. If you're in the area, it's worth stopping by but I wouldn't have gone out of the way for it. Mostly commercially made yarn.
8 -Stof & Stil
Vesterbrogade 20, 1620, København, DK
This is really not my kind of yarn shop. It felt more like a Joann than a locally owned yarn shop. I didn't actually buy anything. If you also like fabric and other crafting, this might be worthwhile to hit.
9 – Håndarbejdscentret
Reberbanegade 10A, 2300 København, DK
I COULD NOT FIND IT. It is in a mall, apparently. I walked all over that beast of a mall and just couldn't find it. The mall was also under constructions plus it was the Christmas rush, so maybe that had something to do with it. Too bad, it looked like fun based on the pictures I found in google maps, but it wasn't meant to be.
If anyone has found/visited this shop, let us know in the comments!
10 – AC Strik
Vesterbrogade 186, 1800 Frederiksberg
Don't bother. This one is not an actual yarn shop (even though google pulls it up as one when you search), it is a place that you can pay to have a knit garment created for you. I mean that's cool if that's what you're after but don't plan on purchasing yarn here.
11 – Nicoline Garn
Fyensgade 1, 2200 København
This is another one to skip. It is another shop that will manufacture a garment for you, not a yarn shop.